Ebony May 1962 - The Intruder
"I hated every minute of the part," says actor William Shatner, explaining that the character he portrays "is a charlatan who earns money out of the terrible business of fomenting hate."
LIFE Oct 6, 1958 - The World of Suzie Wong
Bill Shatner was so nervous I had to massage him for 20 minutes.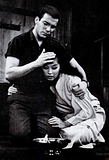 James Wigney

From:

The Sunday Mail (Qld)

February 27, 2011

12:00AM

IF THERE was ever need of further proof of William Shatner's unique place in pop culture, consider the fact a few years ago his kidney stone sold for $75,000.

The veteran Canadian actor, beloved and revered by Trekkies around the world as Captain James Tiberius Kirk of the USS Enterprise, still feels bemused that a small piece of bodily detritus would fetch such a princely sum, which he donated to a charity for the homeless.

``The true joy is knowing that a family who were homeless now has a home as a result of the contribution to Habitat for Humanity and I have a picture of a lovely family with three kids, living in a home that my kidney stone built,'' he says with a chuckle.

``I don't think of that as unusual at all - especially when you think of how much I could get for other body parts. I don't mind sacrificing myself.''


Shatner, who turns 80 next month, is instantly recognisable when he comes on the line from his office in Los Angeles, with a sly sense of humour, a clear sense of the ridiculous and bursts of those famously tortured cadences that have made him one of the most parodied actors in history.

Promoting a visit in April for both a Star Trek convention in Melbourne and an evening of anecdotes on stage called Kirk, Crane and Beyond: William Shatner Live, he is at pains to emphasise the difference between the two, clearly hoping that over-eager fans in skivvies and pointy ears don't turn up at the wrong venue.

At the former, the more eager fans will pay up to $1100 to get some face time, a picture and an autograph with their galaxy-trotting hero and other lesser luminaries from the Star Trek universe.

The latter, with a top price a mere snip at $350 for a meet-and-greet, will be a more freewheeling affair, as he reminisces over his long and sometimes chequered career.

``I will be sitting down with someone else on the stage and we will talk and I will expound and I hope that I will entertain the audience for a period of time,'' he says. ``I will take questions and tell them about myself and things that have happened to me.

``Wherever our curiosity leads us, I will go there.''

As the title suggests, there will be plenty to talk about. In addition to his most famous creations of Kirk and lawyer Denny Crane of The Practice and then Boston Legal, Shatner has carved out a career that spans seven decades across stage, television, film and even music.

A trained Shakespearean actor, he started his career in theatre in his native Canada and already had a lengthy string of television and film credits before he landed the lead role in the space-western Star Trek, which become a cultural phenomenon despite running for only three years.

His career foundered when it was cancelled in 1969 but after taking guest appearances and dodgy acting jobs in the early '70s, his profile built steadily when Star Trek became a cult hit in reruns.

He returned to centre stage in the 1979 hit Star Trek: the Motion Picture and hasn't looked back, reprising the role in six more films until he was killed off in Star Trek Generations (1994), and appearing in successful series such as T.J. Hooker and 3rd Rock from the Sun, right up to his gig as an irascible father living with his grown son in the sitcom $#*! My Dad Says, now screening on Channel 9.

Throughout it all, he has developed a healthy sense of irony about the sometimes ridiculous characters he has played, spoofing them himself and watching on with an arched eyebrow as countless others did the same, all the time blurring the line between Shatner the man and Shatner the persona.

``The level of Star Trek is both earnest and ironic,'' he says. ``I think of Star Trek at its best as being really good and when I was at my best I was good in it.

``There were some - if not many - missteps but at its best it was really terrific.

``So I am both proud of it and at the same time I am aware that some people think it was a soap opera and the sets were cheap and the effects - I can't even call them computer effects - were awful by today's standards.

``When you think there are shows like The Twilight Zone that I did that were even worse in terms of effects, with a furry little man on a wing, but it still remains in the public domain and is very popular to this day.

``But were you to look at it through an objective eye, rather than suspension of disbelief, you would see a furry little man on a wing and an actor trying to pretend it's not. So when you suspend that disbelief - and if I have been helpful making the audience do that - and you are into the show and the entertainment then you don't even see the irony.''

One of Shatner's stranger diversions has been into the field of music.

In 1968 he put out a now legendary spoken-word album, The Transformed Man, which interspersed dramatic readings of Shakespeare with popular songs of the day such as Lucy in the Sky with Diamonds and Mr Tambourine Man.

In 2004 he teamed up with singer-songwriter Ben Folds for the mostly original Has Been and at present is working on an album of heavy metal covers, to be titled Seeking Major Tom, which will include Black Sabbath's Iron Man (with guitar by Zakk Wylde) and Queen's Bohemian Rhapsody.

He puts his continued output down to a love of the musicality of language combined with an inability to sing.

``With the Transformed Man, the concept there was fine literature and the wonderful lyrics of some of the modern songs of that day,'' he says. ``That was intermittently successful, which led me to writing my own songs for the most part with Has Been, which was critically very successful, which then takes me to this one.

``It's an interesting experiment in language and music.''

As he nears 80, Shatner is showing no signs of slowing down. In addition to his new album and sitcom, he is also working on another book to be called Shatner Rules, a further 13 episodes of his talk show, Raw Nerve, and new seasons of his science-based documentary series Aftermath and Weird Or What.

One place you won't likely see him is in the sequel to J.J. Abrams' hit reboot of the Star Trek movie franchise.

His old friend Leonard Nimoy played a key role as Spock in the last one, leaving Shatner a little miffed to be overlooked.

While he is certainly up for it, he has made it clear he's not really interested in a Captain Kirk cameo.

``I would be so interested in doing it, especially with that wonderful director J.J. Abrams, but I don't see how it's possible and maybe we all have gone beyond that,'' he says.

``But I have shot a wonderful documentary where I talk to all the captains of Star Trek and try to find a common denominator and in the meantime have some fun talking to them about them and their lives.''

Kirk, Crane and Beyond: William Shatner Live.

Concert Hall, QPAC, Monday, April 11, 8pm. Tickets from $149, qpac.com.au or 136 246.


*For more Movie stories go to Hit in QLD Life.